Let's dive into the new RPG game BIOMUTANT
Byline by- Aaliya Sultana
After waiting for quite a long time since the announcement which was made around Gamescom about BIOMUTANT, the game is finally out and was released on 25 May, 2021 and was created by Swedish developer known as Experiment 101, and published by THQ Nordic. Biomutant is an action role-playing and open world game and is available on platforms like Microsoft Windows, PlayStation 4, and Xbox One. Although for PS5, Xbox Series X/S versions, the date is yet to be released. The game has secured ratings like 6/10 on Steam and IGN and 62% on Metacritic.
Now as far as the gameplay is concerned, it is somewhat non-linear i.e. one can get side quests and still enjoy the game while not completing the main story. The story tells that the tribes are fragmented, and they need someone powerful to pull them together, the Tree of Life is bleeding death from its root and the land is being ravaged by a plague.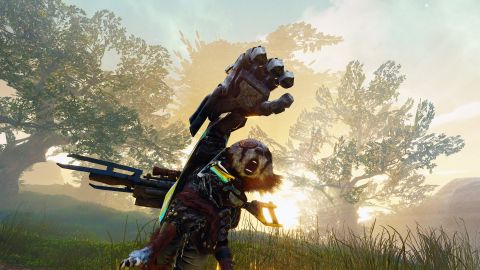 The game will give you the feeling of a post-apocalypse time where humans have gone extinct and only mutants animal exists. It is your actions and preferences that will dictate how your tale ends while a storyteller directs you around the world and reveals every step of your journey. The game is indulged with martial arts-styled action structure and will give you options like melee, shooting, and mutant skill action. You get to use coins in order to level-up your skills and as well as you get the crafting option. Your acts have a massive influence on the plot of a tale about End's arrival in the new world. You can have fun by asking a villager for a confidential location. The game is packed with creative elements and fun tasks to do.
For reviews, the gamers have it in dilemma while some are bored with repetitiveness of the story, some called it 'amazingly weird'. PC gamer on twitter says 'Biomutant is a boring, broken adventure that treads water with artistry and charm.' Some are linking it to the Days Gone reviews and Fallout and Zelda gameplay. Though, we agree with some and we do not agree with some. Personally, the game has a scope to improve with their combat perspectives and as far as the enjoyability of the game is concerned, it is fairly up to you. The final judgments can only be given once the game-play is completed but let's give it a shot as it is created by only 20 people in a studio! Furthermore, the exploration will give a good feeling. To end this, we say get your hands on this game. On a side note, good news for Indians, It has Hindi subtitles!