Designer Masaba burst out on Trolls, says her chest swells with pride everytime someone calls her illegitimate
Ace designer Masaba Gupta, who has time and again spoken on topical issues, finds herself to be the latest target of trolling. But while many celebrities shush up during times like these, Masaba decided to give it back to trolls in a dignified manner.
The designer, who is known for her quirky creations, is the daughter of famous West Indian cricketer Viv Richards and Indian actress, Neena Gupta, took to Twitter and posted an open letter giving it back to all those who question her legitimacy.
It all began after Masaba shared her opinion on Supreme Court's decision to ban the sale of firecrackers in Delhi and the National Capital Region with immediate effect.
"Recently I retweeted in the support of the Firecracker ban by the Supreme Court and like every other issue in this country, big or small… The trolling & bashing began," here is the tweet,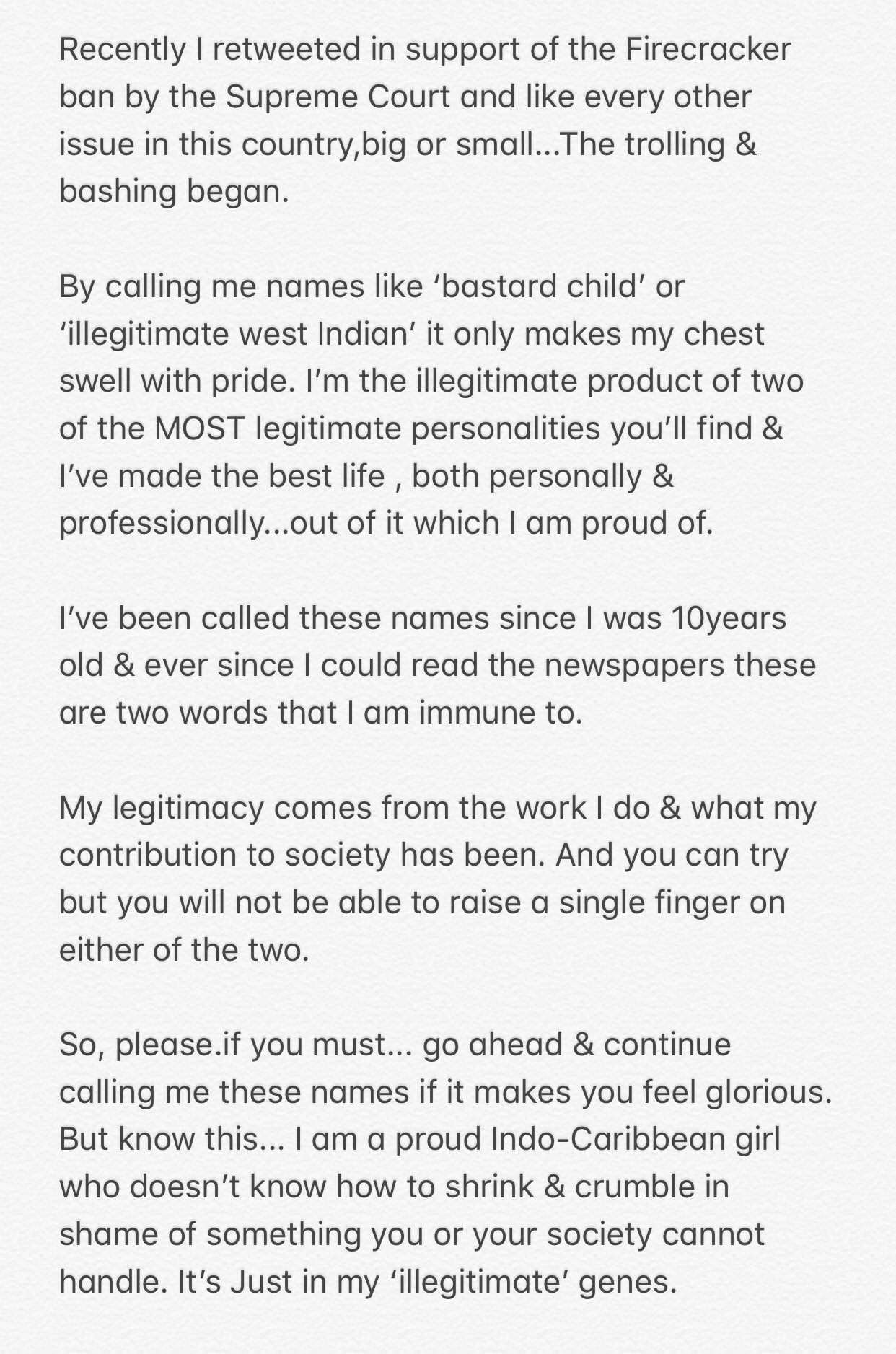 She further wrote that terming her with names like 'bastard child' or 'illegitimate West Indian' only makes her more proud of all that she's achieved.
"By calling me names like 'bastard child' or 'illegitimate west Indian' it only makes my chest swell with pride. I'm the illegitimate product of two of the MOST legitimate personalities you'll find & I've made the best life, both personally and professionally… out of which I'm proud of," she further added.
Saying that she's now immune to these words as she's been reading them since she was 10, Masaba held her ground and wrote, "My legitimacy comes from the work I do & what my contribution to society has been. And you can try but you will not be able to raise a single finger on the either of the two."
The lady further got support from many Bollywood Celebs like Sonam Kapoor, Anil Kapoor, Chetan Bhagat etc. These Bollywood Stars allegedly supported by commenting and retweeting in her favor.
Sonam Kapoor and Anil Kapoor retweeted Masaba's tweet, here it is:
Love you Masaba.. you make us all damn proud https://t.co/aIrHc73au2

— Sonam K Ahuja (@sonamakapoor) October 12, 2017
If you like the post then do share and comment on the below section.