Shashi Tharoor highlights need for "renewed, reinvigorated" Congress to take on BJP
Edited By:- Vikas Mavi
3 October 2022 (New Delhi): Congress leader Shashi Tharoor said that after two consecutive losses in the Lok Sabha elections, a "renewed and reinvigorated" party is needed to take on the ruling Bharatiya Janata Party at the Centre. Tharoor is currently in Hyderabad campaigning for the party's upcoming presidential elections, in which he will face veteran leader Mallikarjun Kharge.
Tharoor denied for the existence of the G-23 group
"This election is about how Congress should be best equipped to take on the ruling govt today, which is the BJP," Tharoor said. We've lost two elections… We need a renewed, reinvigorated Congress party where it is mobilized effectively to take on this challenge." He denied the existence of the G-23 group within the Congress (which wrote to Sonia Gandhi seeking party reforms) and claimed it was a "media idea."
Is Gandhi family really a valuable asset for the party?
Tharoor described the Gandhi family as a valuable asset to the party, saying, "The DNA of the Gandhi family and the DNA of the Congress is the same… No (party) president would be such a fool as to say "goodbye" to the Gandhi family. They are a huge help to us." Tharoor emphasised that the race between him and Kharge is "not a battle," and that the choice should be left to the Congress workers.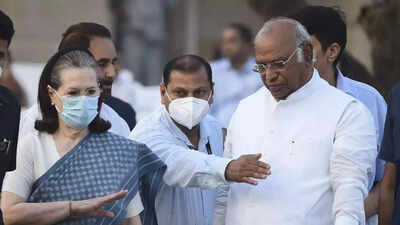 Is party ready to accept it's first non-Gandhi president?
Digvijaya Singh previously dropped out of the race and supported Kharge, whom he described as a "senior and respected leader of the party" against whom he "cannot think of contesting." Singh is the second Congress leader to withdraw from the race, following Rajasthan Chief Minister Ashok Gehlot's announcement that he would not run in the elections due to political turmoil in his state. With the Gandhis opting out of the presidential race, the party will have its first non-Gandhi president in over 25 years.