TOP 3 BOOKS RECOMMENDED BY YOUR FAVOURITE EMMA WATSON!
Byline by- Aaliya Sultana
Books and Literature can be a perfect way to escape from the reality for a little adventure. They give you knowledge, new insights, new perspectives and what not! So today, we bring top 3 books that Emma Watson has read. We hope that our readers will try these books and hopefully get something meaningful out of it.
Hunger Makes Me a Modern Girl by Carrie Brownstein.
On October 27, 2015, Brownstein released the 256-page memoir through Riverhead, a Penguin Group brand. The book is about Carrie Brownstein, a member of the band Sleater-Kinney, wrote a memoir called Hunger Makes Me a Modern Girl in 2015. It's about her life in and around music, and it's named after one of her lyrics.
2. Mom and Me and Mom by Maya Angelou.
Mom & Me & Mom is a personal and emotional narrative of Maya's family. While Angelou's six autobiographies chronicle her travels across the world, In Mom & Me & Mom, she explains what prompted her mother to send her away, as well as the plethora of emotions she had as a result. It describes the relationship of her and her mother.
3. Half the Sky by Sheryl WuDunn and Nicholas Kristof.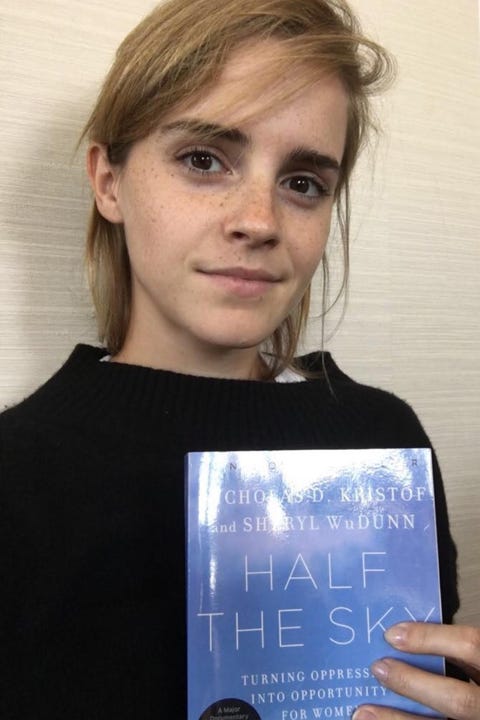 Nicholas Kristof and Sheryl WuDunn's nonfiction book, Turning Oppression into Opportunity for Women Worldwide, was published by Knopf in September 2009. The book claims that, like the fight against slavery in the past, the subjugation of women around the world is "the most pressing moral crisis" of our time.