Rajini Chandy: The 69-year-old Indian actress trolled for 'too sexy' photos
By Devanshi Thakkar
When Rajini Chandy posted pictures from her glamorous photoshoot on Facebook recently, she didn't anticipate they would go viral and attract vicious trolls.
The photos show the 69-year-old housewife-turned-actress, who's generally seen in colourful, elegant saris, dressed in a jumpsuit, long dresses, a pair of distressed jeans, and a short denim dress. In some, she's wearing a crown of fresh white flowers picked from her garden.
Described as "bold and beautiful" by the local press in Kerala's southern Indian state, where she lives, the photoshoot has raised the hackles of many in a conservative state where most women still dress modestly in saris or traditional long skirts.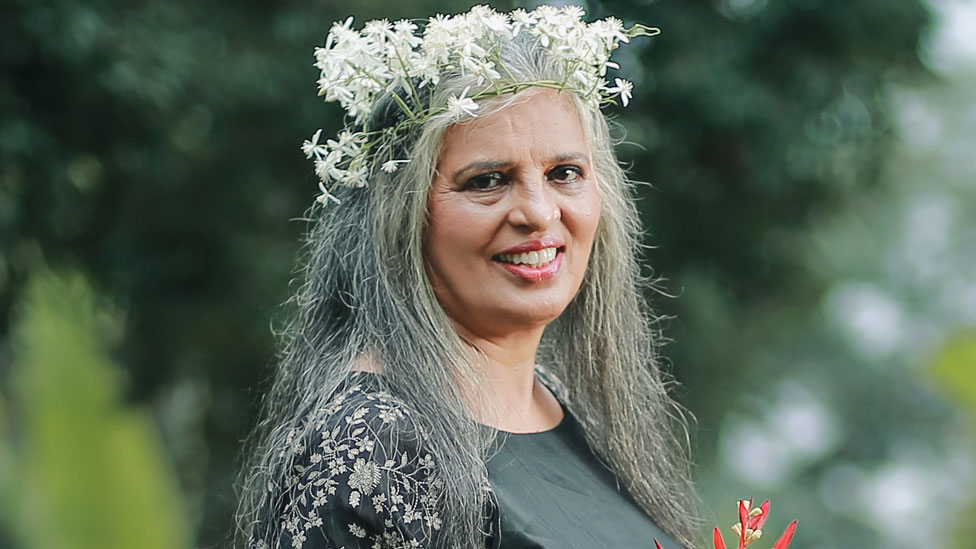 The photoshoot, Mrs Chandy told, was the idea of Athira Joy, a 29-year-old photographer known for her unconventional work.
Ms Joy said what attracted her to the actress was how she was so different from her mother.
"Indian women," she says, "spend their lives caged in this system of marriage and raising a family. Most give up on life once they reach 60. They become nannies to their grandchildren."
Her 65-year-old mother, she says, is "a typical Indian woman who suffers from all sorts of health issues that 60 plus women face".
"But Rajini is different – she takes care of herself, she's fit, she's bold, she's beautiful, she's fashionable. She's 69, but in her mind, she's 29, just like me."
In traditional Keralan society, Mrs Chandy has always stood out. When she returned to Kerala in 1995 after spending decades in Mumbai where her husband worked with a foreign bank, she made heads turn as she stepped out in a pair of jeans or wore lipstick. Once, she tells me, she was reprimanded for wearing a sleeveless blouse.
In the past few years, she's made news for her "unconventional choices" – in 2016, at the age of 65, she debuted as an actress in the Malayalam-language comedy-drama, Oru Muthassi Gadha (A Granny's Mace).
Since, then, she's been seen in two more films and participated in the second season of Bigg Boss (the Malayali version of Big Brother) last year.
Mrs Chandy says she did the shoot to motivate older people to believe they can still enjoy their life.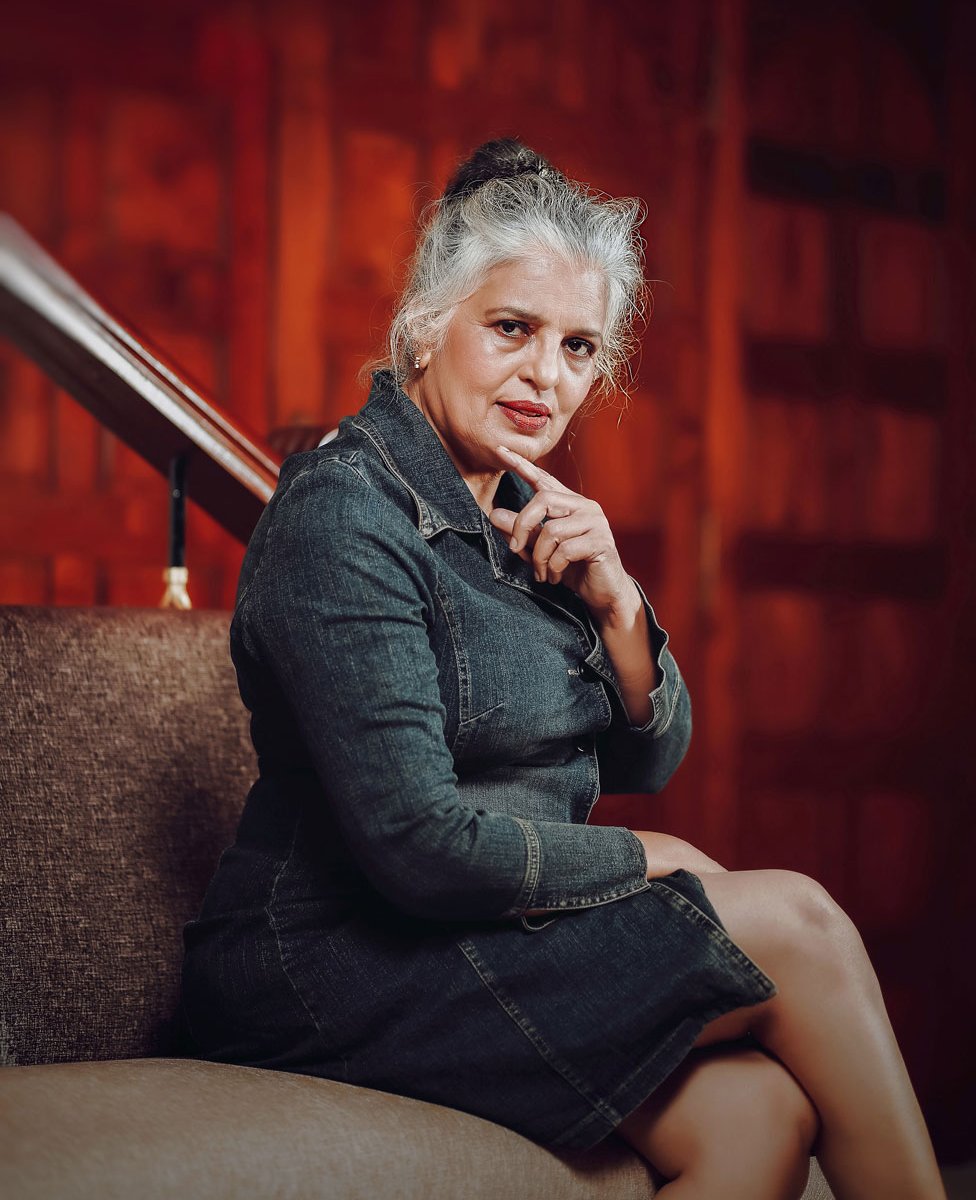 "Most young couples spend their youth bringing up children. They put their desires on the backburner, and then they realise they are too old to chase their dreams because they're worried about what would society say. I believe it's okay to do whatever you want as long as you're not hurting anyone," she says.
"I've fulfilled all my family and social obligations, and now I'm just doing what pleases me. I'm learning to play the drum; I'm not aiming for perfection. I'm just having fun."
The photo shoot was meant to be fun too.
"In December, Athira asked me if I'd be interested in doing a photoshoot and whether I had any inhibitions wearing Western clothes. I said no, I used to wear them all the time when I was younger. I told her I even have a photograph in a swimsuit," Mrs Chandy told me.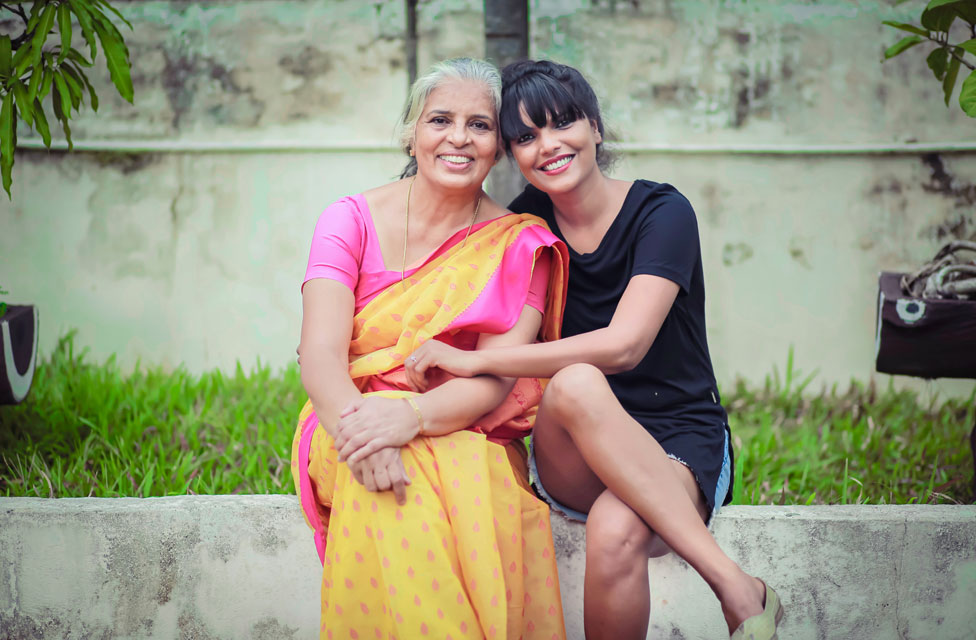 She found Athira's proposal interesting – during her travels abroad, she says, she'd always admired older women who were well turned out.
"But I told her I'd do it if my husband approved. So, she asked him for permission, and he said: 'It's her life. If she wants to do it, I'm fine with that."
Mrs Chandy says when she first saw the clothes Athira had hired for her from a local boutique, she was "shocked".
"I hadn't dressed up in such a sexy way in a long time. But once I wore them, I was okay."
The 20 photographs were taken at Mrs Chandy's sprawling home in Kochi towards the end of last month.
Bouquets, and brickbats, began arriving once the photos went up on Facebook and Instagram last week and the local press picked them up.
"Our mothers and grandmothers are great upholders of the patriarchal order."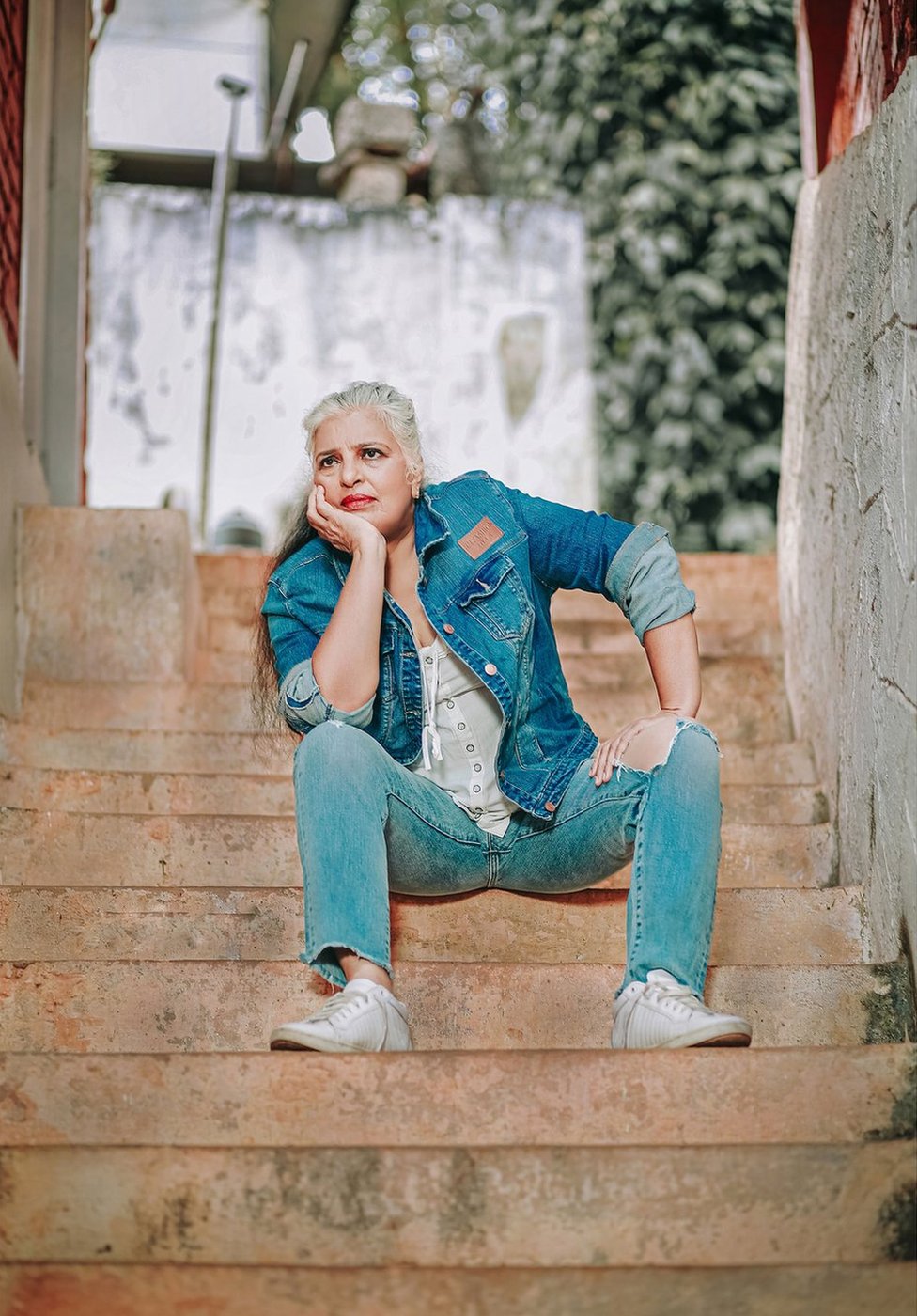 Globally, as women get older, she says, they face the double whammy of sexism and ageism, but in India, unlike in the West, "we don't invisible older women".
"I feel, to some extent, ageism works to women's advantage in India. Older women, our dadis [paternal grandmothers] and nanis [maternal grandmothers] enjoy a certain status in the family. But then, we venerate them because they conform to a stereotype. They dress modestly, in white if they're widowed, and they are not sexualised.
"Now if a grandmother shows her cleavage or flashes her legs, she's overturning the stereotype, she's stepping out of line and then she's fair game."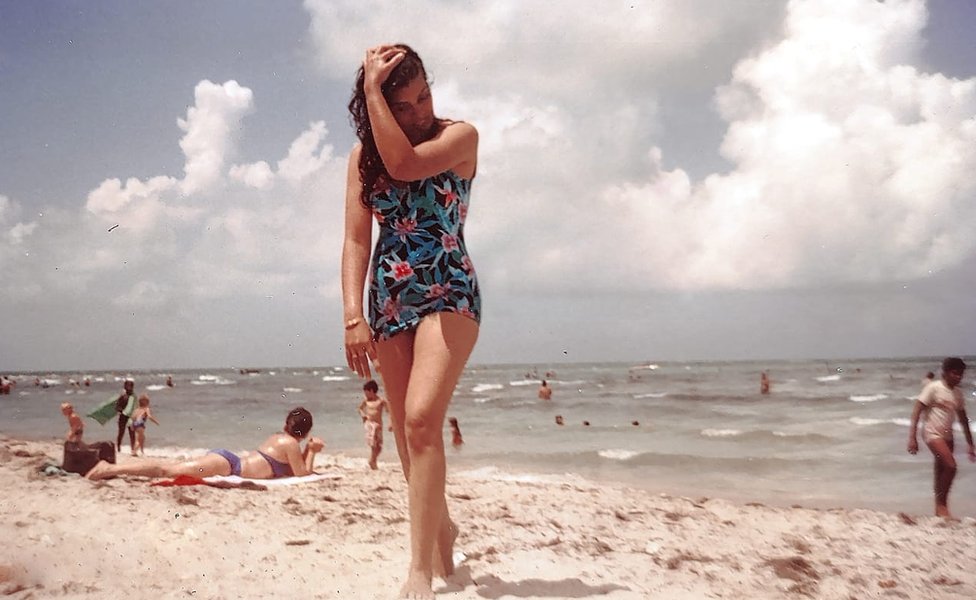 Mrs Chandy says she never thought the photos would go viral or that she would be trolled.
"I'm really outspoken, so maybe a lot of people don't like me. But I tell them, instead of wasting your time on me, why don't you use your energy to do a good turn for your country or the world or the Mother Earth?"